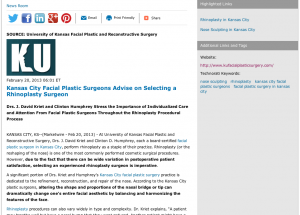 Drs. David Kriet and Clinton Humphrey stress the importance of individualized care and attention from facial plastic surgeons throughout the rhinoplasty procedural process.
Kansas City, KS – At the University of Kansas Medical Center, Drs. J. David Kriet and Clinton D. Humphrey, each a board-certified facial plastic surgeon in Kansas City, perform rhinoplasty as a staple of their practice. Rhinoplasty (or the reshaping of the nose) is one of the most commonly performed cosmetic surgical procedures. However, due to the fact that there can be wide variation in postoperative patient satisfaction, selecting an experienced rhinoplasty surgeon is imperative.
A significant portion of Drs. Kriet and Humphrey's Kansas City facial plastic surgery practice is dedicated to the refinement, reconstruction, and repair of the nose. According to the Kansas City plastic surgeons, altering the shape and proportions of the nasal bridge or tip can dramatically change one's entire facial aesthetic by balancing and harmonizing the features of the face.
Rhinoplasty procedures can also vary widely in type and complexity. Dr. Kriet explains, "A patient may breathe well but have a nasal hump that they want reduced. Another patient might have a crooked or collapsed nose with obstructive symptoms that will require more extensive reconstruction."
The philosophy at KU Facial Plastic Surgery revolves around individual care for each patient. "Dr. Humphrey and I both embrace each opportunity to positively impact people's lives," says Dr. Kriet. "We hope this is evident to every new patient that comes into our office."
According to Dr. Humphrey, one of the most important steps in performing nose sculpting surgery is developing a surgical plan in collaboration with the patient that is tailored to his or her specific goals and cosmetic desires. Keeping this in mind, Drs. Kriet and Humphrey believe it is important to educate patients about their expectations of the procedure in relation to their own anatomy.
Drs. Kriet and Humphrey note that while desired changes are often subtle, many of their Kansas City facial plastic surgery patients remark that their self-confidence and poise are dramatically improved after rhinoplasty surgery. Ultimately, the two surgeons believe that each nasal procedure they perform is distinctive, and say they work with a combination of scientific and artistic sensibilities to achieve the most effective results for their patients.
About J. David Kriet, MD, FACS
Dr. David Kriet earned his medical degree at the University of Oklahoma College of Medicine. He has served as an associate professor and the Director of the Division of Facial Plastic and Reconstructive Surgery at the University of Kansas Department of Otolaryngology since 1998. In addition, Dr. Kriet is a reviewer for the Archives of Facial Plastic Surgery medical journal. He is available for interview upon request.
About Clinton D. Humphrey, MD, FACS
Dr. Clinton Humphrey earned his medical degree at the University of Missouri School of Medicine. He went on to complete a fellowship in facial plastic and reconstructive surgery at the University of Illinois-Chicago Medical Center. Dr. Humphrey currently serves as an assistant professor of facial plastic surgery at Kansas University Medical Center. In addition, he has co-authored articles concerning facial plastic surgery and otolaryngology for many leading medical publications. Dr. Humphrey is available for interview upon request.