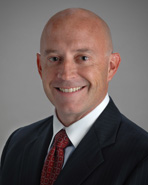 Facial plastic surgeon J. David Kriet's dedication to his art has helped improve the lives of countless patients. Since 1998, he has practiced in the University of Kansas Department of Otolaryngology as professor and Director of the Division of Facial Plastic and Reconstructive Surgery.
As a leader among facial plastic surgeons, Dr. Kriet possesses an exceptional commitment to both his field and his patients. His involvement throughout the medical community is testimony to his devotion and prowess in the specialty of facial plastic surgery. Dr. Kriet has studied with some of the most prolific and respected surgeons in the world, including Ted A. Cook, MD and Tom D. Wang, MD.

He has also written numerous articles on a variety of topics within facial plastic surgery. Dr. Kriet is a reviewer for the medical journal Archives of Facial Plastic Surgery and a member of the eMedicine online journal's facial plastic surgery editorial board. In addition, he is an invited lecturer at many prestigious events, including the Portland Rhinoplasty Course.
Plastic surgeon J. David Kriet, MD also takes the time to educate the public about health concerns and facial plastic surgery. He leads a series of wellness seminars entitled "The Timeless Face," sponsored by the University of Kansas Medical Center. These comprehensive seminars provide tips on preventing and reversing sun damage, teach participants the common warning signs of skin cancer, and offer the most current advice on cosmetic facial rejuvenation procedures. Dr. Kriet's popular seminars provide the public with information that can have a tremendous impact on health and appearance.
Always interested in helping others, Dr. Kriet makes medical mission work an important part of his life. During a 12-day trip to Nepal, he performed cleft lip surgeries and taught Nepalese physicians new rhinoplasty techniques. He also trekked to remote villages in the Himalayan mountains and provided much-needed medical care. Closer to home, Dr. Kriet participates in FACE TO FACE: The National Domestic Violence Project. FACE TO FACE is a program designed to help the victims of domestic violence heal and move past their experience. The program is sponsored by the American Academy of Facial Plastic and Reconstructive Surgery. FACE TO FACE provides free surgery to victims of abuse who have scars or injuries to the face, neck, or head. As a member of this program, Dr. Kriet offers both his time and his services to help make a positive difference in the lives of others.
Facial plastic surgery is both a science and an art, requiring a skilled hand and an eye for aesthetics. Dr. J. David Kriet's personal interest in photography is closely related to his interest in beauty and nature. When patients visit Dr. Kriet, they experience the same patience and priorities that he employs as a photographer. His goal is achieving an attractive and natural result.
Education
Dr. Kriet has earned many awards and honors throughout his career and during his time being trained in surgery and plastic surgery. His education includes:
University of Oklahoma College of Medicine – Medical Degree
University of Washington, Seattle – Otolaryngology Residency (Head and Neck Surgery)
Oregon Health and Sciences University – Fellowship – Facial Plastic and Reconstructive Surgeons (Sponsored by the American Academy of Facial Plastic and Reconstructive Surgery)
Memberships
Dr. J. David Kriet belongs to several prestigious organizations and has served on multiple local, regional, and national committees, including:
American Board of Facial Plastic Surgery – Diplomat and Senior Examiner
American Board of Otolaryngology – Diplomat
American Academy of Facial Plastic and Reconstructive Surgery (AAFPRS) – Fellow
Beyond facial plastic surgery, medical mission work, and photography, Dr. Kriet is a dedicated husband and father of three.
Please contact J. David Kriet, MD to schedule a consultation. Dr. Kriet will be happy to discuss your options with you, and together, come up with a treatment plan that is unique to your needs and can achieve your ultimate goals.