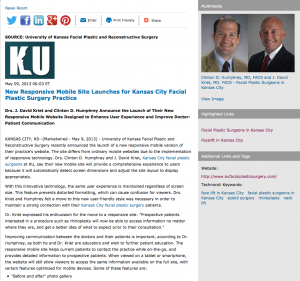 Drs. J. David Kriet and Clinton D. Humphrey announce the launch of their new responsive mobile website designed to enhance user experience and improve doctor-patient communication.
Kansas City, KS — University of Kansas Facial Plastic and Reconstructive Surgery recently announced the launch of a new responsive mobile version of their practice's website. The site differs from ordinary mobile websites due to the implementation of responsive technology. Drs. Clinton D. Humphrey and J. David Kriet, Kansas City facial plastic surgeons at KU, say their new mobile site will provide a comprehensive experience to users because it will automatically detect screen dimensions and adjust the site layout to display appropriately.
With this innovative technology, the same user experience is maintained regardless of screen size. This feature prevents distorted formatting, which can cause confusion for viewers. Drs. Kriet and Humphrey felt a move to this new user-friendly style was necessary in order to maintain a strong connection with their Kansas City facial plastic surgery patients.
Dr. Kriet expressed his enthusiasm for the move to a responsive site: "Prospective patients interested in a procedure such as rhinoplasty will now be able to access information no matter where they are, and get a better idea of what to expect prior to their consultation."
Improving communication between the doctors and their patients is important, according to Dr. Humphrey, as both he and Dr. Kriet are educators and wish to further patient education. The responsive mobile site helps current patients to contact the practice while on-the-go, and provides detailed information to prospective patients. When viewed on a tablet or smartphone, the website will still allow viewers to access the same information available on the full site, with certain features optimized for mobile devices. Some of these features are:
"Before and after" photo gallery
Patient testimonials
Location information with maps
Virtual consultation with Drs. Kriet and Humphrey
Detailed patient information and education
One-touch call or e-mail
As facial plastic surgeons, Drs. Kriet and Humphrey specialize in procedures such as eyelid surgery, facelift, neck lift, nasal reconstruction, and rhinoplasty. These procedures are delicate and complex, and Dr. Kriet believes well-educated patients are crucial to a successful outcome. With the popularity of mobile technology, he feels more of his patients will continue to conduct their research online, so it seemed appropriate for them to respond with a website that reflects the need for instant access to information.
About J. David Kriet, MD, FACS
Dr. J. David Kriet is a board-certified facial plastic surgeon, as well as an associate professor and Director of the Division of Facial Plastic and Reconstructive Surgery at the University of Kansas Department of Otolaryngology. Dr. Kriet is also dedicated to helping those in need through medical mission work locally and internationally. He is available for interview upon request.
About Clinton D. Humphrey, MD, FACS
Board-certified head and neck surgeon and facial plastic surgeon Dr. Clinton D. Humphrey is a Magna Cum Laude graduate of the University of Missouri School of Medicine, where he earned his medical degree. He is currently an assistant professor of facial plastic surgery at Kansas University Medical Center. Dr. Humphrey is available for interview upon request.