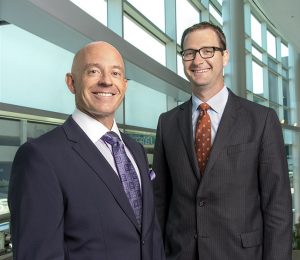 Dr. J. David Kriet and Dr. Clinton D. Humphrey make up the Division of Facial Plastic and Reconstructive Surgery in the nationally recognized Department of Otolaryngology-Head and Neck Surgery at the University of Kansas Medical Center. They are experts in cosmetic and reconstructive facial plastic surgery. Drs. Kriet and Humphrey are active not only as busy surgeons but also as authorities and lecturers in their field, constantly working to pioneer new procedures and educate others. They are passionate researchers and have authored numerous scholarly articles in their efforts to improve surgical results and develop cutting edge techniques. Additionally, they serve as editors for leading academic journals, keeping them abreast of fresh ideas that may improve their patients' results.
Cosmetic and Reconstructive Facial Plastic Surgery
Using artistic vision and knowledge, Dr. J. David Kriet and Dr. Clinton D. Humphrey provide the highest level of care to every patient in their facial plastic surgery practice. The wide range of surgical services they offer include: improving facial balance and proportions through cosmetic surgery of the nose (rhinoplasty); revising previous nasal surgery that has left a patient with a cosmetic deformity or dysfunctional nose (revision rhinoplasty); renewing the aging face through surgery on the forehead, eyelids, face, and neck; and reconstruction following skin cancer removal or traumatic injuries.
Non-Surgical Cosmetic Services
Many patients also benefit from our comprehensive array of non-surgical services. State-of-the-art laser skin resurfacing is performed in the office, and our doctors personally administer injectables including BOTOX® Cosmetic, Restylane®, and the entire Juvéderm product line.
Please take a look through our comprehensive website for information on a range of topics, and contact our Facial Plastic and Reconstructive Surgery practice today.
View additional information about our doctors