We are Proud to announce that David Kriet for the second consecutive year, has been chosen for the Best of Shawnee Mission Award by the US Commerce Association (USCA).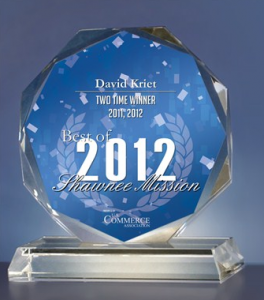 Dr. David Kriet was among the mere 1.4% of recipients nationwide who qualified as a two-time award winner. This award is a true reflection of the hard work done by Dr. David Kriet and the many people that support his practice.
About the Best of Shawnee Mission Award
Each year USCA "Best of Local Business" sets out to recognize the most outstanding local businesses nationwide. USCA searches for companies that have reached exceptional marketing success within their local community and category. The award winners are all local companies that successfully display a positive image of small business in their communities.
U.S. Commerce Association (USCA) is an organization funded by local businesses operating in towns across the U.S. The USCA's purpose is to promote local business through marketing, public relations, and advertising. The goal of USCA is to recognize the most exceptional local businesses in their respective communities.
This year they have recognized Dr. David Kriet. Congratulations Dr. David Kriet!