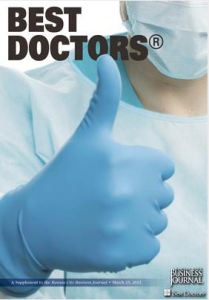 This award is only bestowed upon the foremost doctors in the Kansas metropolitan area. The award is not only an honor but also serves as a resource for readers seeking medical services. Out of 251 listings for doctors in 61 specialties the winners were chosen by their peers as being the best. Winners of the award will be included in The Best Doctors in America database.
About The Best Doctors in America List
To compile the Best Doctors List both in-person telephone interviews as well as high-tech methods are used. When contacting 45,000 doctors who are listed among the Best Doctors they are asked "If you or a loved one needed a doctor in your specialty, to whom would you refer them?" This results in having only peer nominated physicians on the list. Once the list is gathered, each doctor's data is analyze by a proprietary software that was developed by 'Best Doctors'. This software calculates an aggregate score for each physician. The score gives a preliminary group of doctors who meet criteria measures for inclusion. Finally the physician's certification, licensure, disciplinary actions and clinical activity are checked. The Best Doctors List is so trusted not only because of the extensive way the list is compiled but also because no compensation is accepted to get list doctors in its database, and they don't pay doctors to participate in its survey process. Only around 5 percent of practicing doctors in America are chosen for each Best Doctors list. This year Dr. David Kriet is part of that 5%.
Congratulations Dr. David Kriet!