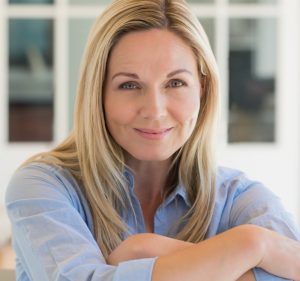 A combined face and neck lift procedure can restore several characteristics of a youthful neck and face. While each of these facial plastic surgery procedures is designed to tighten muscle laxity and correct sagging skin, patients often ask our plastic surgeons to explain the differences between the two. At our practice, face and neck lift techniques are typically performed during one surgery to achieve optimal facial rejuvenation that looks natural; however, usage of this surgical terminology can vary from surgeon to surgeon, which can cause confusion for some patients during the research and consultation process.
Essentially, neck and face lift procedures can have more overlapping similarities than differences. The neck and lower face typically age at a similar rate, and a procedure that targets one of these regions will typically require corrections to the other in order to achieve cohesive, natural-looking results. For example, when skin starts to sag in the neck, often the lower face will also show signs of skin laxity. As a result, tightening loose skin around the neck may also require tightening of the jawline. Similarly, patients interested in a face lift are typically also concerned about neck bands, jowling, and an overall lack of definition in the neck. A full face lift almost always incorporates neck lift techniques, which can result in the synonymous use of "face lift" and "neck lift" terminology. Many doctors, including our board-certified facial plastic surgeons, offer a face and neck lift as one procedure in order to provide comprehensive rejuvenation of these interrelated regions. Drs. J. David Kriet and Clinton Humphrey have been trained intensively in treating these areas through various surgical head and neck residencies and facial plastic surgery fellowships. Furthermore, they often combine non-surgical treatments, such as Restylane® or Juvéderm®, with face lift surgery to achieve an even better overall outcome.
Ultimately, the surgeon's individual preference will determine whether face lift and neck lift procedures are offered as combined surgeries or separately. It is very important to talk openly and thoroughly with your surgeon about your cosmetic concerns and goals, so that he or she can understand your expectations and design a surgical approach that will meet your needs. You should feel comfortable asking any questions about the terminology or techniques discussed during your appointments to ensure you and your surgeon are on the same page regarding your procedure.
If you are considering a face and necklift, or have additional questions about the procedure, please contact our practice today.