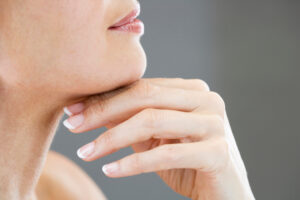 Jowls refer to the loose, hanging tissue that develops along the lower cheeks and jawline as the face begins to age. Caused by decreased production of collagen and elastin, jowls can form as early as a patient's thirties and compromise the appearance of a smooth and sleek jawline. This is a common aesthetic concern experienced by many, but the good news is our board-certified facial plastic surgeons offer many different solutions to combat this loss of skin elasticity and restore your youthful facial contours. 
Facelift surgery is considered by many aesthetic surgeons to be the gold standard of long-lasting and natural-looking facial rejuvenation. Not only does a facelift work to smooth and tighten skin, but the procedure is also designed to address the deeper SMAS layer of musculature responsible for supporting the skin structure. The result of this comprehensive approach can be a more refreshed and youthful version of yourself, achieved by minimizing jowling and smoothing the jawline while maintaining the inherent character of your face. Drs. Kriet and Humphrey also incorporate a neck lift into the facelift procedure to correct platysmal banding and loose skin, sometimes resulting in what is often known as a "turkey neck." Thebefore-and-after photos from previous facelift patients can effectively demonstrate the outcomes that can be achieved with a facelift plus neck lift. 
Volumizing dermal fillers can also provide a temporary improvement in premature jowling. While injectables don't have the same effectiveness of a surgical procedure, products like JUVÉDERM® and Restylane® can still lift the skin and restore a youthful facial contour to some degree. 
Many signs of facial aging can be reduced with the aesthetic treatments and cosmetic surgery procedures at The University of Kansas Health System. Please contact our practice to schedule a consultation or to learn more about our services.