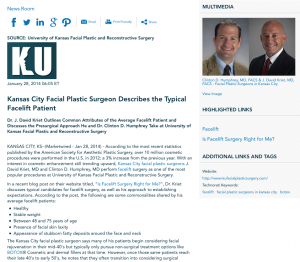 Dr. J. David Kriet outlines common attributes of the average facelift patient and discusses the presurgical approach he and Dr. Clinton D. Humphrey take at University of Kansas Facial Plastic and Reconstructive Surgery.
Kansas City, KS — According to the most recent statistics published by the American Society for Aesthetic Plastic Surgery, over 10 million cosmetic procedures were performed in the U.S. in 2012; a 3% increase from the previous year. With an interest in cosmetic enhancement still trending upward, Kansas City facial plastic surgeons J. David Kriet, MD and Clinton D. Humphrey, MD perform facelift surgery as one of the most popular procedures at University of Kansas Facial Plastic and Reconstructive Surgery.
In a recent blog post on their website titled, "Is Facelift Surgery Right for Me?", Dr. Kriet discusses typical candidates for facelift surgery, as well as his approach to establishing expectations. According to the post, the following are some commonalities shared by his average facelift patients:
Healthy
Stable weight
Between 48 and 75 years of age
Presence of facial skin laxity
Appearance of stubborn fatty deposits around the face and neck
The Kansas City facial plastic surgeon says many of his patients begin considering facial rejuvenation in their mid-40's but typically only pursue non-surgical treatment options like BOTOX® Cosmetic and dermal fillers at that time. However, once those same patients reach their late 40's to early 50's, he notes that they often transition into considering surgical options such as the facelift. Furthermore, he adds that many patients opt to maximize the results of their facelift by combining both surgical and non-surgical procedures.
When asked about his approach to helping patients determine realistic goals and expectations for their facelift surgery, Dr. Kriet answers:
"During the initial consultation, a conversation regarding goals and expectations takes place. In most cases, we come to a mutual agreement with the patient on the treatment plan at this initial visit. We will then often have one or two additional consultations to confirm expectations and answer any questions the patient may have. Our goal is for every patient to feel like their needs have been met with our care."
Dr. Kriet also states, "Every patient is unique, and the facelift is modified accordingly for skin thickness, the presence of neck bands, fat accumulations, hairline position, chin position, and jawline." Ultimately, he urges anyone interested in the procedure to seek a board-certified facial plastic surgeon in order to help ensure the utmost degrees of safety and efficacy are achieved.
About J. David Kriet, MD, FACS
Dr. Kriet earned his medical degree at the University of Oklahoma College of Medicine and later continued his medical training at both the University of Washington and the Oregon Health and Sciences University. A leader in his field, Dr. Kriet remains dedicated to the medical community through lecturing, educating other surgeons, and contributing articles to prestigious medical journals. He also participates in FACE TO FACE, an organization designed to help victims of domestic violence through complementary surgery. He is available for interview upon request.
About Clinton D. Humphrey, MD, FACS
Dr. Humphrey earned his medical degree from the University of Missouri School of Medicine and received extensive surgical training from the University of Kansas Medical Center and the University of Illinois-Chicago Medical Center. Dr. Humphrey remains devoted to the medical field by lecturing nationally and contributing his research on facial plastic surgery to leading medical journals. He also enjoys volunteering around the world – he provides medical care to impoverished populations lacking access to proper medical care, including the people of Honduras, Mexico, and the Philippines. He is available for interview upon request.
For more information about Drs. Kriet and Humphrey, visit kufacialplasticsurgery.com.
Contact:
University of Kansas Facial Plastic and Reconstructive Surgery
KU Medical Center
3901 Rainbow Blvd.
Kansas City, KS 66160
(913) 871-9785
Rosemont Media
[email protected]
858-200-0044
www.rosemontmedia.com