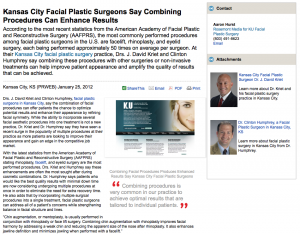 According to the most recent statistics from the American Academy of Facial Plastic and Reconstructive Surgery (AAFPRS), the most commonly performed procedures among facial plastic surgeons in the U.S. are facelift, rhinoplasty, and eyelid surgery, each being performed approximately 50 times on average per surgeon. At their Kansas City facial plastic surgery practice, Drs. J. David Kriet and Clinton Humphrey say combining these procedures with other surgeries or non-invasive treatments can help improve patient appearance and amplify the quality of results that can be achieved.
Drs. J. David Kriet and Clinton Humphrey, facial plastic surgeons in Kansas City, say the combination of facial procedures can offer patients the chance to optimize potential results and enhance their appearance by refining facial symmetry. While the ability to incorporate several facial aesthetic procedures into one treatment is not a new practice, Dr. Kriet and Dr. Humphrey say they have seen a recent surge in the popularity of multiple procedures at their practice as more patients are looking to improve their appearance and gain an edge in the competitive job market.
With the latest statistics from the American Academy of Facial Plastic and Reconstructive Surgery (AAFPRS) stating rhinoplasty, facelift, and eyelid surgery are the most performed procedures, Drs. Kriet and Humphrey say these enhancements are often the most sought after during cosmetic combinations. Dr. Humphrey says patients who would like the best quality results with minimal down time are now considering undergoing multiple procedures at once in order to eliminate the need for extra recovery time. He also adds that by incorporating multiple surgical procedures into a single treatment, facial plastic surgeons can address all of a patient's concerns while strengthening balance in facial structure and lines.
"Chin augmentation, or mentoplasty, is usually performed in conjunction with rhinoplasty or face lift surgery. Combining chin augmentation with rhinoplasty improves facial harmony by addressing a weak chin and reducing the apparent size of the nose after rhinoplasty. It also enhances jawline definition and minimizes jowling when performed with a facelift."
Although combining surgical procedures offers patients an opportunity to overlap recovery time, and thus minimize time off from work and home, Dr. Kriet says there is also a demand for non-surgical treatments that can provide significant improvement in facial structure and complexion. When performed in conjunction with an injectable filler such as BOTOX® Cosmetic, he says the results of surgery are drastically magnified.
"In the aging face, I like to combine injectable fillers for the midface such as Restylane and Juvederm with surgical rejuvenation of the neck. Injectables are minimally invasive and performed in the office, but I believe that these procedures provide the best and most natural-looking results for improvement in the folds and creases around the lips, nose, and mouth. While I believe injectable fillers are superior in the midface, surgery is definitely my method of choice for eliminating jowls, defining the jawline, and smoothing out the neck. This is achieved with a lower facelift in which incisions are hidden around the ears. The combination of injectable fillers in the midface and a lower facelift can produce outstanding results."
Regardless of whether patients are interested in combining multiple procedures or electing a single enhancement such as eyelid surgery in Kansas City, Dr. Kriet and Dr. Humphrey recommend consulting with an experienced, dedicated facial plastic surgeon before undergoing any procedure. They say patients should also be sure to take great care in finding a practice that is passionate about doctor-patient communication to ensure all patient goals are met.
"Combining procedures is very common in our practice to achieve optimal results that are tailored to individual patients. Some patients come in requesting multiple procedures. Other patients simply come in with a list of goals and in the course of discussion it becomes apparent to both the patient and me that more than one procedure will be necessary to achieve those goals."
About J. David Kriet, MD, FACS
Dr. J. David Kriet earned his medical degree from the University of Oklahoma College of Medicine. Following graduation, he completed an Otolaryngology Residency (Head and Neck Surgery) at the University of Washington, Seattle and a Fellowship in Facial Plastic and Reconstructive Surgery at the Oregon Health and Sciences University. Dr. Kriet is a Diplomat and Senior Examiner of the American Board of Facial Plastic Surgery, a Diplomat of the American Board of Otolaryngology, and a Fellow of the American Academy of Facial Plastic and Reconstructive Surgery. He is active in volunteering in his community through programs such as FACE TO FACE, a national domestic violence project designed to provide free surgery to victims with scars or injuries to the face, head, or neck. Dr. Kriet has also acted as an associate professor in the University of Kansas Department of Otolaryngology and as Director of the Division of Facial Plastic and Reconstructive Surgery.
About Clinton D. Humphrey, MD
After graduating summa cum laude from the University of Missouri with a B.A. in Microbiology, Dr. Clinton Humphreyattended medical school at the University of Missouri School of Medicine, where he received his medical degree magna cum laude. He also completed a residency in Otolaryngology/Head and Neck Surgery from the University of Kansas Medical Center in addition to a Fellowship in Facial Plastic and Reconstructive Surgery from the University of Illinois-Chicago Medical Center. Dr. Humphrey is certified by the American Board of Otolaryngology and a member of the American Academy of Facial Plastic and Reconstructive Surgery, the American Academy of Otolaryngology, and the American Medical Association. He has also participated in several medical mission trips to offer care to indigenous populations in Honduras, Mexico, and the Phillippines. Dr. Humphrey is currently an Assistant Professor of Facial Plastic Surgery at Kansas University Medical Center, authoring numerous articles in medical publications dedicated to facial plastic surgery and otolaryngology.
University of Kansas Facial Plastic and Reconstructive Surgery has two office locations at KU MedWest, 7405 Renner Rd. in Shawnee, KS and KU Medical Center, 3901 Rainbow Blvd. in Kansas City, KS, both of which can be reached at (913) 871-9785. It can also be contacted online via the website kufacialplasticsurgery.com orfacebook.com/pages/KU-Facial-Plastic-Surgery/311515014843.