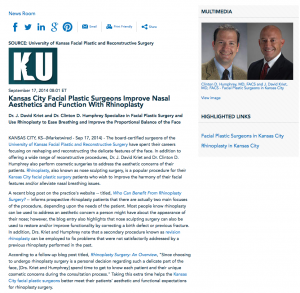 Dr. J. David Kriet and Dr. Clinton D. Humphrey specialize in facial plastic surgery and use rhinoplasty to ease breathing and improve the proportional balance of the face.
Kansas City, KS – The board-certified surgeons of the University of Kansas Facial Plastic and Reconstructive Surgery have spent their careers focusing on reshaping and reconstructing the delicate features of the face. In addition to offering a wide range of reconstructive procedures, Dr. J. David Kriet and Dr. Clinton D. Humphrey also perform cosmetic surgeries to address the aesthetic concerns of their patients. Rhinoplasty, also known as nose sculpting surgery, is a popular procedure for their Kansas City facial plastic surgery patients who wish to improve the harmony of their facial features and/or alleviate nasal breathing issues.
A recent blog post on the practice's website – titled, Who Can Benefit From Rhinoplasty Surgery? – informs prospective rhinoplasty patients that there are actually two main focuses of the procedure, depending upon the needs of the patient. Most people know rhinoplasty can be used to address an aesthetic concern a person might have about the appearance of their nose; however, the blog entry also highlights that nose sculpting surgery can also be used to restore and/or improve functionality by correcting a birth defect or previous fracture. In addition, Drs. Kriet and Humphrey note that a secondary procedure known as revision rhinoplasty can be employed to fix problems that were not satisfactorily addressed by a previous rhinoplasty performed in the past.
According to a follow-up blog post titled, Rhinoplasty Surgery: An Overview, "Since choosing to undergo rhinoplasty surgery is a personal decision regarding such a delicate part of the face, [Drs. Kriet and Humphrey] spend time to get to know each patient and their unique cosmetic concerns during the consultation process." Taking this extra time helps the Kansas City facial plastic surgeons better meet their patients' aesthetic and functional expectations for rhinoplasty surgery.
About J. David Kriet, MD, FACS
After earning his medical degree from the University of Oklahoma College of Medicine, Dr. Kriet continued his medical training at both the University of Washington and Oregon Health and Sciences University. He is a leader in the field of facial plastic surgery and exhibits his continued dedication to the medical community with lectures, peer education, and authoring articles for medical journals. In addition, Dr. Kriet participates in FACE TO FACE, an organization designed to help victims of domestic violence through complimentary surgery. He is available for interview upon request.
About Clinton D. Humphrey, MD, FACS
After earning his medical degree from the University of Missouri School of Medicine, Dr. Humphrey received extensive surgical training at the University of Kansas Medical Center and the University of Illinois-Chicago Medical Center. He continues to show his devotion to the medical field by delivering lectures and contributing his facial plastic surgery research to leading medical journals. In addition, Dr. Humphrey enjoys volunteering around the world, providing medical services to impoverished populations lacking access to proper care, including the people of Honduras, Mexico, and the Philippines. He is available for interview upon request.
For more information about Drs. Kriet and Humphrey, visit www.kufacialplasticsurgery.com.
Contact:

University of Kansas Facial Plastic and Reconstructive Surgery
KU Medical Center
3901 Rainbow Blvd.
Kansas City, KS 66160
KU MedWest
7405 Renner Rd.
Shawnee, KS 66217
(913) 871-9785
Rosemont Media
858-200-0044
www.rosemontmedia.com