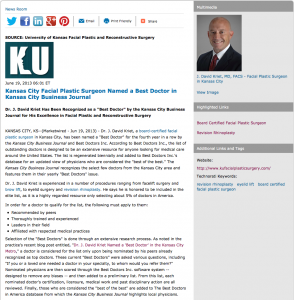 Dr. J. David Kriet has been recognized as a "Best Doctor" by the Kansas City Business Journal for his excellence in facial plastic and reconstructive surgery.
Kansas City, KS – Dr. J. David Kriet, a board-certified facial plastic surgeon in Kansas City, has been named a "Best Doctor" for the fourth year in a row by the Kansas City Business Journal and Best Doctors Inc. According to Best Doctors Inc., the list of outstanding doctors is designed to be an extensive resource for anyone looking for medical care around the United States. The list is regenerated biennially and added to Best Doctors Inc.'s database for an updated view of physicians who are considered the "best of the best." The Kansas City Business Journal recognizes the select few doctors from the Kansas City area and features them in their yearly "Best Doctors" issue.
Dr. J. David Kriet is experienced in a number of procedures ranging from facelift surgery and brow lift, to eyelid surgery and revision rhinoplasty. He says he is honored to be included in the elite list, as it is a highly regarded resource only selecting about 5% of doctors in America.
In order for a doctor to qualify for the list, the following must apply to them:
Recommended by peers
Thoroughly trained and experienced
Leaders in their field
Affiliated with respected medical practices
Selection of the "Best Doctors" is done through an extensive research process. As noted in the practice's recent blog post entitled, "Dr. J. David Kriet Named a 'Best Doctor' in the Kansas City Metro," a doctor is considered for the list only upon being nominated by his peers already recognized as top doctors. These current "Best Doctors" were asked various questions, including "If you or a loved one needed a doctor in your specialty, to whom would you refer them?" Nominated physicians are then scored through the Best Doctors Inc. software system – designed to remove any biases – and then added to a preliminary list. From this list, each nominated doctor's certification, licensure, medical work and past disciplinary action are all reviewed. Finally, those who are considered the "best of the best" are added to The Best Doctors in America database from which the Kansas City Business Journal highlights local physicians.
For over 20 years, Dr. Kriet says people have turned to the list to find the most respected medical professionals. Since surveyed doctors are not paid for their participation, and Best Doctors Inc. is not compensated for its efforts, he notes that the list proves to be a trustworthy resource without any biases. Ultimately, the Kansas City facial plastic surgeon says he is thrilled to be part of the prestigious directory and looks forward to continuing to provide excellent patient care to the Kansas City area.
About J. David Kriet, MD, FACS
Dr. David Kriet is board certified facial plastic surgeon. He earned his medical degree from the University of Oklahoma College of Medicine and completed his Otolaryngology Residency at the University of Washington, Seattle. Dr. Kriet is a leader in his field and stays involved within the medical community by participating in mission work, hosting wellness seminars and lecturing at acclaimed events. He is available for interview upon request.