For facial plastic and reconstructive surgeons, continuing one's education on a regular basis is imperative to consistently providing patients with the highest level of care available. As a board-certified facial plastic surgeon and leader in his field, Dr. J. David Kriet is dedicated not only to continuing his own education, but also helping others further theirs. In his most recent effort, Dr. Kriet traveled to Vienna, Austria where he served as a guest international faculty member at the 4th AOCMF Operative Techniques in Oral and Maxillofacial Surgery Course. This was his second opportunity to visit Vienna for the course chaired by Christos Perisanidis, MD, DMD of Medical University of Vienna, and participants traveled from all around the world to attend.
According to AOCMF, the intensive course was designed to instruct surgeons on all essential operative procedures in oral and maxillofacial surgery while providing the opportunity for participants to perform particular procedures under the guidance of experts. Over the duration of three days, a total of eight practical sessions covering a variety of facial surgeries were led by local and international faculty members. Each session included a step-by-step introduction succeeded by an on-site demonstration and hands-on training using frozen human cadavers.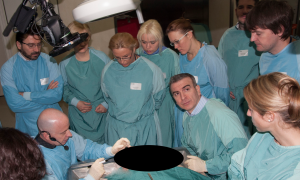 As a result of his extensive experience in facial plastic and reconstructive surgery, Dr. Kriet was specifically invited to lead a session on rhinoplasty and blepharoplasty during which he instructed and performed open rhinoplasty, upper blepharoplasty, and lower blepharoplasty procedures. Since all participants had expertise in maxillofacial surgery but varied in their rhinoplasty experiences, Dr. Kriet most notably reviewed key nasal anatomy essential for performing rhinoplasty with consistent outcomes and shared personal tips he has found useful when performing this intricate procedure.
In reflection of his overall experience, Dr. Kriet highlights: "Vienna has such a rich history in the understanding of human anatomy, and it was an honor to participate in this state-of-the art educational event. Having the opportunity to share my knowledge and simultaneously learn from my colleagues and course participants in such a wonderful city and facility was fantastic. I was able to catch up with old friends from around the world and make many new friends. This was certainly a high point of my recent educational travels."
Contact Our Office
For more information on the AOCMF course, or to schedule an appointment with Dr. Kriet, please contact our officetoday.