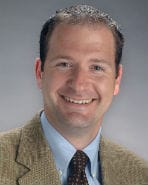 Clinton D. Humphrey, MD, FACS is a facial plastic surgeon and board-certified otolaryngologist/head and neck surgeon practicing in the Kansas City and Johnson County area. Dr. Humphrey has devoted his career to helping people enhance their appearance and overcome conditions that have had a functional and aesthetic impact on the face. Dr. Humphrey was raised in Willard, Missouri and educated locally prior to undergoing specialized training in facial plastic and reconstructive surgery at the University of Illinois Medical Center in Chicago. Dr. Humphrey knows the community and works tirelessly to guide patients through the treatment process with compassion, skill, and attention to every aspect of their care.
Dr. Humphrey is currently an Associate Professor of Facial Plastic Surgery at Kansas University Medical Center, and has given presentations at leading facial plastic surgery and otolaryngology meetings and symposiums all over the United States. He has also co-authored numerous articles for leading medical publications specializing in facial plastic surgery and otolaryngology.
Dr. Clinton D. Humphrey gives his time to a variety of volunteer charitable organizations serving people all over the world. He has been part of a number of medical mission teams to offer needed care to indigent populations in Honduras, Mexico, and the Philippines.
Outside of the practice and volunteer work, Dr. Humphrey is a dedicated husband, and father of 2.
Contact our practice for more information on our plastic surgeon serving the Kansas City, Johnson County, and Overland Park area.
Education
University of Missouri – B.A. in Microbiology (Summa Cum Laude)
University of Missouri School of Medicine – M.D. (Magna Cum Laude)
University of Kansas Medical Center – Residency in Otolaryngology/Head and Neck Surgery
University of Illinois-Chicago Medical Center – Fellowship in Facial Plastic and Reconstructive Surgery
Memberships and Certifications
American Board of Otolaryngology – Certified
American Board of Facial Plastic and Reconstructive Surgery – Certified
American Academy of Facial Plastic and Reconstructive Surgery – Member
American Academy of Otolaryngology – Member
American Medical Association – Member
Please contact Dr. Clinton D. Humphrey for more information on his background and credentials, or to schedule a consultation.